How to buy treatment…
Step 1 – Click on Start Consultation
Step 2 – Complete consultation and payment options
Step 3 – Check email for follow-up questions from the doctor
Step 4 – Get pain relief in just 24 hours
Treatments
You can buy prescription painkillers from this site. But first you will need one of our doctors to issue you with a prescription. This is subject to an online consultation. The information below contains links to the different treatment pages where you can find further information.
Codeine
Click to buy Codeine Phosphate
Codeine is available as codeine phosphate in 30mg, or 60mg tablets. Codeine phosphate is prescribed for moderate to severe pain.
Dihydrocodeine
Dihydrocodeine is another form of codeine commonly prescribed for pain. It is available is 30mg tablets. Dihydrocodeine is metabolised in a different way to codeine phosphate and so for some people it is more effective.
Co-codamol
Co-Codamol is also available at OTC (over-the-counter) strength with the codeine content limited to 8mg – 12mg. Prescription Co-codamol typically contains 500mg of paracetamol and 30mg of codeine in each pill. There are various proprietary brands of this medicine, such as Kapake, Solpadol, and Zapain. You can buy these Co-Codamol brands or approved generic Co-Codamol via the link above.
NSAIDs
Click to buy prescription strength NSAIDs
NSAIDs are the most widely known and used painkillers available in every pharmacy OTC. NSAIDs are especially good at treating inflammatory pain. NSAIDs include such widely used medications as aspirin and ibuprofen. But to buy strong NSAIDs you will need prescription. Prescription strength NSAIDs are available through our site.
Other Pain Medications
Painkillers which are not grouped into one of the above categories are often targeted at special conditions and conditions and pathologies. For example, Relpax is used to treat migraine pain specifically, and Lyrica is a new medication designed to treat neuropathic pain.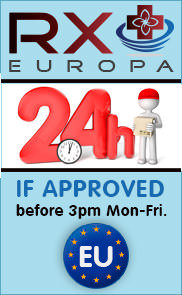 This website is not an online pharmacy. It does not sell or supply medications or process medical or financial data. © 2015
rxeuropa.com
all rights reserved.