Contact Us
For patient issues, such as ORDER STATUS, please login here.
CLICK HERE TO ACCESS PATIENTS PORTAL and use the chat system.
Or contact the team on this number +44 (0)20 3239 8452
All medications are dispatched by EU licensed pharmacies.
For any problems or comments on the website, CONTACT THE WEBMASTER on this email address.
DO NOT use this email address for order status or medical issues.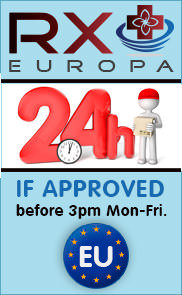 This website is not an online pharmacy. It does not sell or supply medications or process medical or financial data. © 2015
rxeuropa.com
all rights reserved.