Contact Us
For patient issues, such as ORDER STATUS:
Or contact the team on this number +44 (0)20 3239 8452
All Customer Services are handled by:
B.I.M.S. SERVICES LTD.
820 FTZ (Free Trade Zone) 99450 Famagusta
TRNC (Turkish Republic of Northern Cyprus)
Mersin 10, Turkey
Registration: SLBT No: 8321
For inquiries please email: info@bimsservices.com
All medications are dispatched by independent EU licensed pharmacies.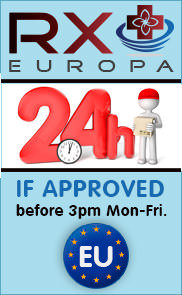 This website is not an online pharmacy. It does not sell or supply medications or process medical or financial data. © 2015
rxeuropa.com
all rights reserved.