Tilidine
Tilidine tablets provide relief from various forms of pain. This medication is a type of opioid, which is used to treat moderate-to-severe pain. However, it is essential to use this medication safely and only as prescribed.
THIS MEDICATION CANNOT BE DISPENSED TO UK RESIDENTS
Uses:
Tilidine is commonly used for the management of moderate-to-severe pain caused by conditions such as cancer, surgery, and injury. The active ingredient is diltiazem hydrochloride. It can also help manage pain from chronic conditions, such as arthritis, back pain, and fibromyalgia. In these Extended Relief (ER) tablets, Tilidine is combined with Naloxone, an antidote to life-threatening risks of opioid overdose.
Benefits:
Tilidine can provide significant relief from pain and improve the quality of life for those who suffer from it. It works by binding to opioid receptors in the brain and spinal cord, which reduces the perception of pain. When used correctly, it can offer effective pain relief and help individuals maintain their daily activities.
Side Effects:
Like all medications, Tilidine can have side effects. Common side effects include drowsiness, dizziness, nausea, and constipation. More severe side effects can include respiratory depression, low blood pressure, and allergic reactions. If you experience any unusual side effects, stop taking the medication and contact your doctor immediately.
Precautions:
Tilidine can be habit-forming and lead to addiction if misused. It's crucial to follow the prescribed dosage and avoid taking more than recommended. People with a history of substance abuse, mental illness, or breathing problems should use this medication with caution. It's important to avoid alcohol while taking Tilidine, as it can increase the risk of side effects.
Tablets and Strengths:
Affiliated pharmacies offer Tilidine in tablet form. The two primary strengths available are Tilidine 50 mg/4mg and Tilidine 100 mg/8mg. The dosage and strength of the medication will depend on the patient's pain level and medical history.
Diseases and Conditions:
Tilidine is prescribed for a variety of conditions, including cancer-related pain, surgery-related pain, injury-related pain, arthritis, back pain, and fibromyalgia.
Tilidine is a powerful medication that can provide relief from moderate-to-severe pain. While it can be an effective pain management tool, it's essential to use it safely and only as prescribed. Be sure to complete the questionnaire  accurately and completely and discuss any concerns you may have with the online doctor before starting Tilidine.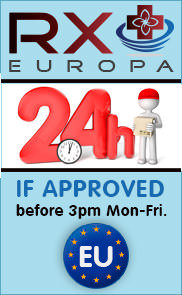 This website is not an online pharmacy. It does not sell or supply medications or process medical or financial data. © 2015
rxeuropa.com
all rights reserved.