Privacy Policy
Privacy
At RXEuropa.com (RXEUR) your privacy is very important to us. Accordingly, we have developed this Policy in order for you to understand how we collect, use, communicate, disclose, and make use of personal information. The following outlines our privacy policy.
Before or at the time of collecting personal information, we will identify the purposes for which information is being collected.
We will collect and use of personal information solely with the objective of fulfilling those purposes specified by us and for other compatible purposes, unless we obtain the consent of the individual concerned or as required by law.
We will only retain personal information as long as necessary for the fulfilment of those purposes.
We will collect personal information by lawful and fair means and, where appropriate, with the knowledge or consent of the individual concerned.
Personal data should be relevant to the purposes for which it is to be used, and, to the extent necessary for those purposes, should be accurate, complete, and up-to-date.
We will protect personal information by reasonable security safeguards against loss or theft, as well as unauthorised access, disclosure, copying, use or modification.
We will make readily available to customers information about our policies and practices relating to the management of personal information.
We are committed to conducting our business in accordance with these principles in order to ensure that the confidentiality of personal information is protected and maintained.
Security
When you click on a consultation link or login to the patients portal, you are passed to the pharmacy portal at https://prescription.technology. This connection is encrypted and private. All information concerning your order – both financial and medical – is exclusively seen by the doctor and pharmacist who process the order. This information is not available to the operators of this website.
Cookies
RXEUR uses cookies. By using this website and agreeing to this policy, you consent to our use of cookies in accordance with the terms of this policy.
Cookies are files sent by web servers to web browsers, and stored by the web browsers.
The information is then sent back to the server each time the browser requests a page from the server. This enables a web server to identify and track web browsers.
There are two main kinds of cookies: session cookies and persistent cookies. Session cookies are deleted from your computer when you close your browser, whereas persistent cookies remain stored on your computer until deleted, or until they reach their expiry date.
Cookies on our website
RXEUR uses the following cookies on this website, for the following purposes:
Google cookies
RXEUR uses Google Analytics to analyse the use of this website. Google Analytics generates statistical and other information about website use by means of cookies, which are stored on users' computers. The information generated relating to our website is used to create reports about the use of the website. Google will store and use this information. Google's privacy policy is available at: http://www.google.com/privacypolicy.html.]
Prescription Partner Cookies
When you place an order or sign into our patients portal, you will be passed to our prescription providers site. This site will also set cookies to facilitate your purchase and secure the required exchanges of information between you and the doctor and pharmacist.
Refusing cookies
Most browsers allow you to refuse to accept cookies.
In Internet Explorer, you can refuse all cookies by clicking "Tools", "Internet Options", "Privacy", and selecting "Block all cookies" using the sliding selector.
In Firefox, you can adjust your cookies settings by clicking "Tools", "Options" and "Privacy".
Blocking cookies will have a negative impact upon the usability of some websites.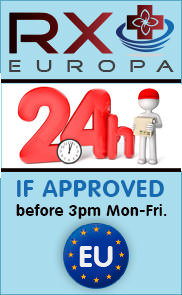 This website is not an online pharmacy. It does not sell or supply medications or process medical or financial data. © 2015
rxeuropa.com
all rights reserved.