About Us
RXEUROPA is an online resource dedicated to pain relief. It is not a clinic or a pharmacy. This site does not provide medications or treatments. This site is a platform to link pain sufferers with registered EU doctors and a registered EU pharmacy. By following consultation links on this site you can link to to these providers of online medical services. After completing a questionnaire concerning your health issue, a doctor may prescribe painkillers as treatment for your condition. These can then be provided by the affiliated pharmacy.
All medications are dispensed by EU Registered Pharmacies.
Our team includes EU Registered doctors, an EU Registered Pharmacy, logistic support staff, and IT professionals. We work together to deliver the convenience of a free online consultation with a registered doctor and next-day delivery on a wide inventory of pain treatments.
Our site provides a 100% legal resource for customers in the EU, providing prescription-strength pain treatments under the supervision of a licensed doctor. Our website operates according to procedures fully compliant with EU laws. These include the strictest supervision throughout the process required to provide prescription strength painkillers online.
We do not ship to the US or Canada or provide any services in those countries.
All you need to do is click on the consultation link on any of the treatment pages and complete the online consultation document and payment information. You will then receive an email asking you to log in to our chat system. You have to do this to confirm your request and respond to any additional questions posed by the doctor.
If your application is approved before 3pm and then delivery is the next-day.
TRAMADOL IS NOT AVAILABLE  FOR DELIVERY IN THE UK.
You can track your request at any time just by logging in to the patients area or by emailing the pharmacy team. You will find all the necessary contact information on our Contact Page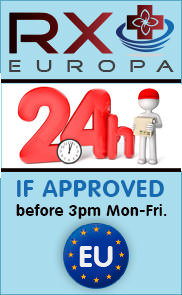 This website is not an online pharmacy. It does not sell or supply medications or process medical or financial data. © 2015
rxeuropa.com
all rights reserved.