How to buy
We have worked hard to make getting the medications you need as simple and user-friendly as possible. Nonetheless, when you buy painkillers online (at least from a legal site like RXEUROPA), you need to comply with certain requirements as this is a highly regulated sector.
You will find links on all the medication page to our consultation process. This is where you start as a new patient. So just click on the relevant link such as Start Consultation or Proceed to Consultation and you will be transferred by secure system to the prescription service portal that links you to a doctor and a pharmacy.
Next you will be asked to provide some required information.
Contact information (so your identity can be confirmed and your application processed)
Medical information (which is only available to the doctor and pharmacist)
Billing information (so you can pay for any approved medication)
When you have gone through this and signed off on your application, you will need to check your email for an automated request to sign into the secure patient system and check for any messages. This automated email sometimes ends up in the spam folder of certain email providers such as Hotmail. So be sure to check you spam folder. If you do not follow up on this email, your application will not be processed.
When the doctor issues your prescription, it is passed to the pharmacy. If it is approved prior to 3pm then it will be dispatched the same day for overnight delivery. Be aware that Tramadol is a controlled medication and it cannot be provided as quickly as other painkillers due to the prescription requirements which take the doctor and pharmacist more time.

Billing
The cost of your medication is all you pay. There are no hidden extras. The doctor's consultation and overnight delivery costs are included in the cost of your purchase.

Delivery
Delivery can be to workplace or home, but either way there must be an adult there to sign for the package.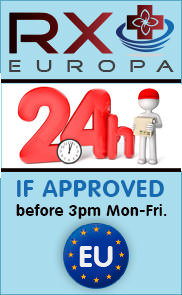 This website is not an online pharmacy. It does not sell or supply medications or process medical or financial data. © 2015
rxeuropa.com
all rights reserved.