How to buy treatment…
Step 1 - Click on Start Consultation
Step 2 - Complete consultation and payment options
Step 3 - Check email for follow-up questions from the doctor
Step 4 - Get pain relief in just 24 hours
Plaquenil
PLAQUENIL is an anti-malarial medication which has shown promise in combating the COVID-19 coronavirus in early tests in France.
Plaquenil  100mg x 100 Tablets – €149 – Start Consultation
Plaquenil  (hydroxychloroquine) was first used in the fight against malaria and later proved useful against various autoimmune diseases like lupus and rheumatoid arthritis. It is a derivative of chloroquine, but much safer, and both in vitro tests and trials on patients infected with COVID-19 have shown it to be effective against the SARS-CoV-2 virus.
The first interest in Plaquenil as a possible cure for COVID-19 and an effective inhibitor of the coronavirus came from China where the pandemic began.  A study by the Chinese Academy of Sciences in Wuhan that was was reported in Nature, characterized the drug as having  "a good potential to combat the disease."
Positive results from patient trials
Trials in France, by Professor Didier Raoult, director of IHU Mediterranee Infection, a research institute based in Marseille went further by testing the drug on 24 COVID-19 patients. Patients were given 600mg of Plaquenil per day in three equal doses of 200mg.  After six days, 75% of them were virus free.  Patients treated with Plaquenil and Azithromycin achieved even better results with 100% testing negative by the sixth day. Based on the success of those initial trials, large scale trials have been authorized by the French Ministry of Health. 
How to Buy Plaquenil 
Plaquenil was first synthesized in 1946 and it has been on WHO's list of essential medications for many years. It has been approved  for many illnesses and it is often prescribed as a Malaria preventative too. No medication has been specifically approved for COVID-19. However, Plaquenil has proven to be a likely candidate based on initial tests, proving to be more effective than all the antiviral HIV medications tested. Before you can buy Plaquenil for any condition, you will need to undergo an online consultation with a doctor who may issue a prescription appropriate to your condition. To connect with an EU registered doctor, click on the consultation link above.
Precautions for use
Plaquenil is a relatively safe medication,  but as with all prescription drugs should only be taken in consultation with a qualified professional.
Drug interactions
It is important to tell your consulting doctor about any other medications you are taking and any other health conditions you may have.
Approved Treatments for COVID-19
According the NHS and other reliable sources, individuals with suspected coronavirus symptoms (fever/cough) should self-isolate. They recommend paracetamol rather than ibuprofen to reduce the fever. Their latest advice can be found here. Codeine is an ingredient of a number of cough medications. It works by affecting the parts of the brain that control the cough mechanism.  Anecdotally, some well-known people who have recovered from COVID-19/coronavirus have reported taking codeine and it benefiting them. Co-Codamol 500/30 combines paracetamol with codeine and might be a suitable medication for those suffering from a fever and cough.
THE INFORMATION ON THIS PAGE IS BELIEVED TO BE ACCURATE AND WAS TAKEN FROM RELIABLE SOURCES. HOWEVER, IT SHOULD NOT BE CONSTRUED AS MEDICAL ADVICE. IF YOU ARE SICK, YOU SHOULD CONSULT WITH A MEDICAL PROFESSIONAL AND IN CONNECTION WITH COVID-19/CORONAVIRUS, YOU SHOULD RIGOROUSLY FOLLOW THE ADVICE AND MANDATES OF YOUR NATIONAL HEALTH PROVIDER. PLEASE NOTE THE DISCLAIMER AT THE FOOT OF THIS PAGE.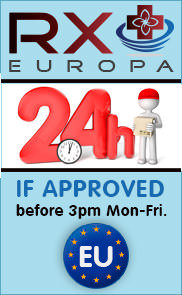 This website is not an online pharmacy. It does not sell or supply medications or process medical or financial data. © 2015
rxeuropa.com
all rights reserved.